BIO

Gregory Kammer is a Washington State artist who works out of a studio on Marrowstone Island near Port Townsend. He holds BA and MFA degrees from the University of Washington and a MA in Art History from the University of New Mexico.
His work has been featured in one-person shows at the University Of The Pacific, Stockton, CA; the Russell Day Gallery, Everett, WA; The Jansen Art Center, Lynden, WA; and group shows at the University of New Mexico, Albuquerque, NM; the Frye Art Museum (a painting included in a large regional artists exhibit) Seattle, WA; University of Washington, MFA exhibit at the Henry Art Gallery, Seattle WA, and The Primitive Image Gallery, San Francisco, CA. His work is included in private collections, including a painting gifted to Aichi Toho University, Tokyo, Japan.
He has published a book entitled "New Terrain" with five other artists. The collection represents a joint expression of exploration and discovery and is the culminating expression of weekly zoom meetings during the year 2020. The book can be found on Amazon.com.
---
NEW TERRAIN
Gregory Kammer, R. Carroll, Craig J. Barber, Steven W Moore, Louise Vlasik, Rebecca Bird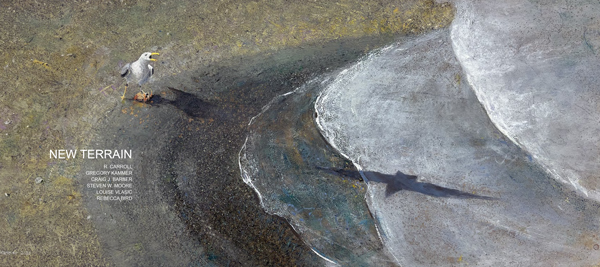 FORWARD
by John Simpson
The pandemic crises which has traveled throughout the world have changed just about every aspect of human behavior. From the habits and patterns of daily life, we have had to implement survival modes, from altering or totally stopping normal work, to dealing with the fears and confusion of 'what will happen next?'
Artists, approaching their work from the creative center of their being, have found this 'stirred-up bees' nest', both exciting and confusing, as well as disruptive and frightening!
This 'New Terrain' is the groundwork for the five artists and a poet in this book. They have installed a weekly meeting on 'Zoom' where they bring their works in progress and encourage open discussions, critiques, changes, and mostly to form a sense of community that supports what they are exploring. This 'support' is the soil that nurtures their existence as Artists!